This is Sargent Chocolatebar , he is from Dalton's Sissy and a red and white male named Craft's Simon . He was picked by Preston to keep when he was about a week old. He has two seconds on the bench in puppys. He is beginning his second season as a hunting dog and was for sale for a time but has earned his home with us , we like what we are seeing from him.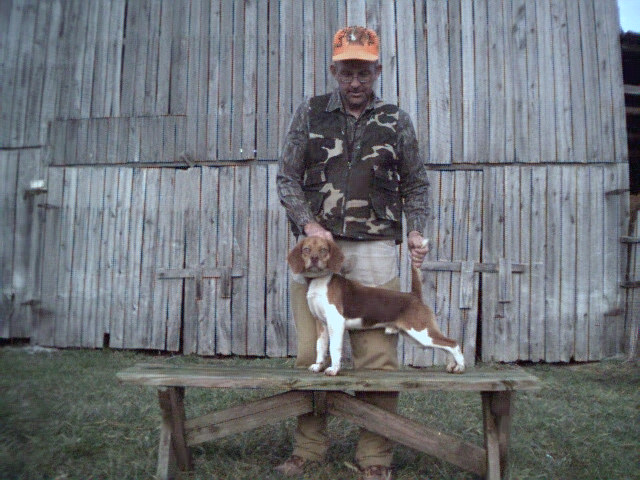 This is Dalton's Big Red he is a littermate to Sarge . He is the one I decided to keep. He has a Best puppy and second best male on the bench. He has jumped and ran several of his own rabbits. The day he started he jumped and ran two the first time he ever opened was that day. Opening day of 2003 he was star of the day. He is For Sale as of 7/24/04 $200 Firm Picked up here or will meet within 75 miles. 30 day money back if returned healthy. Call or e-mail for ???,s

Dalton's Big Red

This is Dalton's Lemonhead , he is a littermate to Sarge and Red , the only lemon colored one in the litter. Everyone thinks he is pretty . He is a slow starter he will pack up some but the other two are ahead of him and I have gave them most of my attention. I need to work with him he handles well .He is the only dog my wife has ever wanted to keep as a puppy and he has been her pick since they were a couple weeks old. We sold him to Mr. Clark in Ohio and we hope he is doing well. He renamed him Clarks Brierpatch I think.
This is Daltons Punkenpatch Lady (punken) She is Prestons' dog . She is small , last time we tried to measure her she was under 10 inches . She is full patch breeding . Thanks to Frank and Dawn Thompson for selling us this little gypl . She has a lot of heart and grit , she is a little slower then the pack but she never quits . We love her and she will eventually be breed if she keeps showing the grit and hunt she shows now.
Daltons Punkenpatch Lady